Sister Marie Andre, Eleanor Fay Macdonald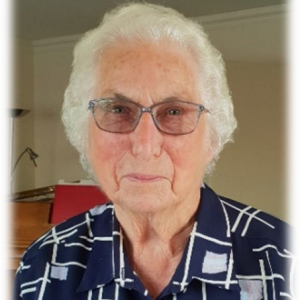 Born: 28 July 1931, Pahiatua New Zealand
Postulant: 4 July 1954, Christchurch New Zealand
Novice: 5 January 1955, Christchurch New Zealand
1st profession: 5 January 1957, Christchurch New Zealand
Final vows: 6 January 1963, Hamilton New Zealand
Death: 25 December 2020, Hamilton New Zealand
Sister Marie Andre or as she was known to family and many friends, Fay Macdonald lived a long and as she declared a full and interesting life. She was an inspiration to many with a wonderful sense of fun, a mischievous sense of humour, an inquiring mind and keen intellect.
Fay was born in Pahiatua, the only daughter of Charles and Lilian Macdonald. She also lived in Eketahuna and Putaruru with her three brothers. She loved the open spaces that country life provided and throughout her life she retained a love of and care for the environment. One of her greatest loves was spending hours by the sea, fishing.
Marie Andre's secondary education was as a boarder at Sacred Heart Girls' College Hamilton and tertiary at Ardmore Teachers' Training College Auckland where she made lifelong friends. She taught for two years before beginning her novitiate in Christchurch in 1955. For 13 years after profession, moving almost every year, Marie Andre taught in parish primary schools in both Hamilton and New Plymouth regions and for 6 of these years she was a teaching principal. In 1970 she moved to Sacred Heart Girls' College Hamilton transitioning effortlessly to secondary teaching. She was an inspiring teacher. Fair, managing with a sense of humour, well prepared and readily gained the respect and trust of the students and staff she worked with. Marie Andre assumed senior management roles including that of Principal at Sacred Heart Girls' College New Plymouth for 2 years. She was also in charge of the boarders in Hamilton from 1974 to 1977. History was her main love. She gained an MA in History from Waikato University. On her two visits to the British Isles, she brought this interest to life by visiting many of the ancient sites.
In 1985, after one of the visits to the British Isles, she returned to Hamilton and taught catechetical studies at the training college as well as some part time teaching at the College.
She was appointed Archivist for the province in 1988 which was no simple task as the two New Zealand regions had combined to become one New Zealand province. Concurrently, she researched the provenance of the RNDM convent properties in Aotearoa New Zealand to ascertain if any of them were on Maori land. Marie Andre was also available as a relief teacher at Sacred Heart College Lower Hutt. She was a welcome and valued addition on the staff because of her class management skills and the ease with which she could assimilate into any role.
Returning to the Waikato region in 1991 Marie Andre spent the next 13 years as a literacy tutor first at Rangipo and then for an extended time at Waikeria prison. She trained as a tutor for Adult Reading and Learning Assistance (ALRA). Her involvement with inmates covered all age groups and security ratings and she related to people from diverse groups. Her sense of humour and ability to maintain control while allowing individuality was appreciated by staff and inmates. In 1997 she volunteered for three months at HM Prison Pentonville, London, and again her ability to accommodate the complex individual moods and needs of learners was appreciated, specifically her understanding, sensitivity and humour. For Marie Andre it was both a challenge and a pleasure to assist inmates to discover the joys of reading.
When work at Waikeria Prison came to an end in 2004 she began tutoring Korean immigrants. She not only tutored younger students but also their mothers and friends of the mothers. This work continued until the end of 2019.
Mare Andre had a breadth of vision and was always well informed about world issues. She was very well read and her choice of TV programmes indicated that she was keen to learn and be informed. While Marie Andre was reserved, she was an inspiration to many and had many life-long friends who will miss her dearly. She was also a very competent driver. The open spaces gave her a sense of freedom and many benefitted from her willingness to meet them at the airport or to visit Opotiki to name just two destinations. She loved fishing – not a usual pastime for sisters – but early morning jaunts to Raglan or Kawhia were for her a real pleasure.
For much of this year Marie Andre had begun to prepare for her passing. She was an inspiration. Marie Andre had the capacity to show us a way to accept those unanswered questions. She prepared her home for another occupant, received visitors, planned for her leaving of friends and family and assured us all that she had had a very good life and would die without regret.
Although hospice nurses had been visiting for several weeks it was only in the last two weeks of her life that Marie Andre needed more palliative care. She spent just 4 days in hospice and died peacefully on Christmas Day morning.
Marie Andre left detailed instructions about her death and burial so in honouring that, we did not hold a formal vigil service. However, as a group of sisters gathered for a meal the night before the funeral, we spent time telling stories and sharing memories of Marie Andre's life. Her requiem mass, which she wanted to be a joyful celebration, was held at St Mary's Cathedral on Wednesday, 30 December. In excess of 130 people gathered to farewell a faithful RNDM. Fr Vince Jones, a long-time friend, was the main celebrant assisted by Mark Field. Marie Andre was laid to rest with our sisters at the Newstead Cemetery as we enjoyed the bright summer sun.
May she rest in peace.